Florida Commercial Refrigeration Specialists
Air Murphy AC & Refrigeration is a full-service Florida commercial refrigeration, air conditioning and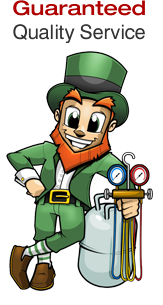 heating specialist with the ability to service and install most heating, air conditioning and refrigeration systems. Since 1992, our experienced technicians have been servicing Florida residents.
Our heating and air conditioning services include service checks, existing equipment repair, and installation of new equipment. Our service technicians can help you find ways to reduce your energy bills through system analysis. Our extensive history of repair service on all brands of residential and commercial refrigeration, central air conditioning and heating systems will prove to be beneficial to your company or family.
Florida Ductless HVAC Specialist
Ductless air conditioning units are becoming widely used due to their efficiency. Not only are they a great piece of equipment, and highly appreciated during the warmer months, but, but they are also dependable. Consisting of two main parts: the cooling unit itself contains the condesors and the extension that sits inside delivering the cool air. Ductless air conditioning systems are easy to use, small in size, and dependable... Making professional ductless air installation an obvious choice!
Air Conditioning in Dade and Broward Counties
While it is important to choose a Florida air conditioning system with a history of quality, performance, reliability and customer satisfaction - the brand itself is not as important as the installation of the air conditioner. If you are in love with a specific air conditioning brand - Air Murphy can get it. But the brands we carry have been chosen because of their exacting standards. Learn more about HVAC Systems.
Why Choose Air Murphy AC & Refrigeration?
In Business Since 1992
Commercial Refrigeration Specialist
State A Licensed
Quality Service Guarantee
Latest HVAC Articles
Miami Gardens Heating & Air Conditioning Problems Wintertime is here, and that means your air temperature will surely be dropping as the […]

One thing you don't want to have to face this year is an air conditioning breakdown. Unfortunately, these seem to […]
If you are looking for a
Florida air conditioning professional;

then please call 954-424-7499 or complete our online request form.