Florida Indoor Air Quality Matters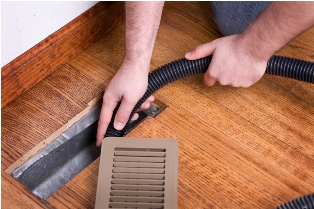 Here in Florida, our indoor air quality matters a great deal because we spend so much time indoors -especially during our long summers.
Working or living in air that is unhealthy to breathe can cause illness or irritate allergies and sinuses. Air cleaners and duct cleaning are great solutions to good indoor air quality.
We have a lot of humidity in our Sunshine State, which means humidity control for our indoor air quality also matters. Too high of humidity is just as unhealthy as not enough humidity. Plus, it's a great environment for mold and mildew to thrive.
Whole Home Humidification
Air Cleaners
Duct Cleaning
Air Quality Testing
Air Quality Testing
Our professional Florida indoor air quality experts can evaluate the environment in your home or commercial business to find out exactly what is needed for healthy indoor air. Harmful vapors (VOC's), high humidity, dust and dirt, bacteria, mold, and other things could be making your environment rancid.
Your home or commercial property may need proper humidity controls put in place, air cleaners, duct cleaning, or other measures to ensure your air is healthy. Have you been feeling ill and don't understand why? It could be the quality of the air you breathe every day.
Whole Home Humidification Systems
So just because the outdoor air here in Florida is high in humidity, it doesn't mean your indoor air has to be as well. The indoor air system is a closed zone system, meaning it has little influence from outdoor air. But humidity can infiltrate the home regardless.
This is what the whole home humidification system can take care of for your entire home, not just one room at a time. The humidity level inside your home is perfectly balanced automatically at all times.
High indoor humidity is not only the perfect conditions for mold, mildew, and bacteria, it also is very bad for furnishings, carpeting, ceiling textures, and woodwork.
With quality air to breathe, you and other occupants will be healthier and your belonging safer from conditions in the home that aren't good for them.
Good Air Cleaners For Healthier Indoor Air
Eliminating excessive dust, pet dander, mold, bacteria, pollen, smoke and other harmful contaminants with a good air cleaner offers you a cleaner, nicer environment.
It is essential to utilize an air cleaner in order to prevent the air that you and your loved ones breathe from being polluted with things that could trigger asthma, allergies or other health problems.
Commercial indoor air cleaners could be vital to the business for healthier employees and happier customers or clients.
You may need air cleaning, purification, humidity controls, or other air quality services depending on what is going on with your indoor environment.
Let our Florida Commercial Refrigeration Company help you get your home or business air cleaned up and balanced with a good indoor air cleaner and proper humidity control so you're more comfortable and safe in the air you regularly breathe!
For the best Indoor Air Quality in Florida, please call 954-424-7499 or complete our online request form.