Village of Lazy Lake Air Conditoning Repairs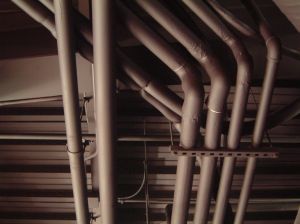 The air climate within your Village of Lazy Lake home or commercial business is something you live with every day. Having an uncomfortable or unhealthy indoor climate isn't good for anyone, so controlling it well means your HVAC system needs to be in good shape.
These mechanical systems have many moving parts that need attention. A professional inspection done at least once per year, preferably prior to a season change when you'll be switching over to the heater or air conditioner, tune ups, timely repairs, and more make your systems work better and for longer.
If you are having problems with your air conditioning system, refrigeration, heating, or indoor air quality equipment, Air Murphy AC and Refrigeration can help. We'll make sure you are cool and comfortable during our long summers and warm when you need it.
It's also important to be in control of your indoor air quality, ensuring the right humidity levels are present. In our Florida climate, we have to deal with humidity inside our homes and businesses. With good air filtration and humidity control indoors, the environment is safer and more comfortable.
For all your Village of Lazy Lake HVAC needs, call Air Murphy AC and Refrigeration experts.
Air Conditioning Repairs
Air Conditioning Installations
Commercial Refrigeration
Heating Repairs
Heating Installations
Ductless Systems Repair & Installations
Indoor Air Quality Testing & Solutions
Village of Lazy Lake Indoor Air Quality Services
Controlling your indoor climate is important for your health and well being, as well as for any others that visit or spend time on the property. Whether your property is for commercial use or your own personal residence, you'll want to ensure the HVAC system functions at its best, giving you the most in energy savings and the least in future repair needs or poor quality air concerns.
Air filtration is also important so ensuring your air is cleaned and contaminants are filtered out thoroughly with an indoor air quality solution is ideal. And finally, ensuring your home is evenly cooled or heated in all rooms will mean your air conditioning or heating system is doing it's job well.
Village of Lazy Lake Heating & Air Conditioning Services
Even if it's not the time of year you would be thinking about it, an air conditioning or heating tune up can go a long way toward keeping your equipment functioning properly all season when it's time to switch from one to the other.
Let us help you solve all your air problems and you'll be happier and safer with better air in the spaces you spend so much of your time in!
Village of Lazy Lake, FL
If you are looking for a Village of Lazy Lake
air conditioning professional;

then please call 954-424-7499 or complete our online request form