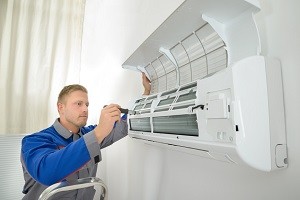 Perhaps at some point you've caught wind of the idea of ductless heating and cooling, and perhaps you've found yourself more than a little interested in looking into it. On the other hand, you may find yourself hesitant to get this kind of HVAC setup for your Davie, FL, home because you simply don't know enough about it.
If lack of understanding is the one thing keeping you from making the switch to ductless, then you should take a minute or two to read through this quick guide. In it, we'll describe the major pros and cons that ductless HVAC offers, giving you the knowledge you need to make the best decision when it comes to your Davie home's heating and cooling.
Cons
Like any HVAC unit, a ductless system is not without its faults. Of course, these faults are relatively minor and certainly easy to live with. However, it's important that you know what they are. So, as you consider making the switch to ductless, just keep in mind that you'll also be making the switch to . . .
A Bulky Look
The mini-split that's necessary for a ductless system is far more conspicuous than a series of ducts, which remain mostly hidden. So, with this system, you do need to be aware that bulky components are going to be visible.
High Upfront Cost
Many homes aren't already set up to handle a ductless system, so the system will need to be retrofitted in. This process can drive up the initial installation cost, making ductless a somewhat costly investment at the outset.
Increased Maintenance
A ductless system's filters need to be cleaned far more regularly than a central one's do — about once a month. If you fail to keep up with the filters, you can expect problems to arise, and you'll need to get a professional to address those problems.
Pros
Despite its few drawbacks, ductless HVAC systems still offer a wealth of great benefits for you to enjoy. These benefits are sure to please any homeowner, as they touch on everyone's desire to save money and maintain the most comfortable living situation:
Money Saving
Unlike a duct-dependent HVAC setup, a ductless system can heat or cool only the rooms you need to. So, this system won't drive up your energy bills by heating or cooling rooms that you may not use for some time.
A Quieter Home Life
A central air conditioning unit tends to make quite a bit more noise than a ductless unit does. So, by opting for ductless, you can enjoy a quieter and more comfortable home life.
A Consistent Temperature
Of course, for the most comfortable home life, you'll want to maintain the most consistent temperatures possible. For that purpose, you can't go wrong with ductless HVAC, which doesn't experience the kind of heating and cooling loss that a central unit can.
Quick Installation
When you want a new HVAC system installed, you surely want it up and going as quickly as possible. For that reason, you'll more than love a ductless system thanks to its quick, no-nonsense installation process.
Interested in Going Ductless? Then Give Our Davie, FL, HVAC Pros a Call Today!
Even with its few drawbacks, ductless HVAC can prove to be an excellent addition to any home. If you're ready to get this HVAC for your Davie, FL, home, then give the HVAC contractors at Air Murphy Air Conditioning & Refrigeration a call today. We offer professional installation services that will allow you to enjoy all of the benefits that ductless offers.
If you have any questions or would like to know more about Commercial Refrigeration Tune-Ups in Florida, please call 954-424-7499 or complete our online request form.