One thing you don't want to have to face this year is an air conditioning breakdown.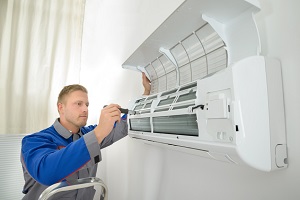 Unfortunately, these seem to occur on the worst days of the year, the hottest. Getting stuck in the heat can mean anything from just feeling a little sick to your stomach to causing some people a stroke that seriously affects their life.
While most people will just suffer a little, the youngsters, elders, or those who already have health problems can be seriously at risk. That's one important reason to ensure your air conditioning system will work at its best all summer long.
And there's no better way to help ensure that your A/C works well than to have an air conditioning tune up and regular maintenance plan scheduled. With this preventative service, you'll not only be helping your system to keep from breaking down, but you'll also find out a great deal about how well it's running and what may need to be done in the future to keep it working right.
When one part of the A/C unit doesn't work right, it can take down other parts that depend on that particular function in order to run correctly. For instance, if your outdoor unit is dirty with grime and debris, it can't keep the air as cool as it should be because it's laboring to function.
This wears down other parts and causes things like the motor to burn out. This is unfortunate because a tune up would have ensured the parts were clean and maintained, and is a much less expensive alternative to repairs.
While air conditioning tune ups don't guarantee against a system breakdown, it does go a long way in preventing them. You'll also enjoy knowing about your system is more efficient, providing you with the most in energy savings. Dirty coils alone can cost you a rise of 20% in energy costs.
Here in Florida, our air conditioners are used heavily, which makes it all that much more important for us to keep our units in top working order.
With energy costs skyrocketing, preventative measure should be more attractive to homeowners than ever before. Yet many still don't understand just how important an air conditioning tune up really is.
Imagine your vehicle being driven all summer long, day and night, yet never getting a tune up or even a check up! There's not much change of something breaking down, especially if it has to then be turned off and let sit for months without use, then turned on again for 24 hour use for months on end. Yet that's what most of us do to our A/C units!
Getting the most out of your system means you keep it in excellent condition. Even just getting one tune up at this time of year (and sooner before warm days arrive), can mean your unit will function better.
But if you are a homeowner who has little time to worry about such things, ask about a maintenance plan that can keep your air conditioner in great condition year round. This service is a great preventative measure that you can take to ensure that you and your family stay comfortable in your home.
If you are in need of an Air Conditioning tune up in the Dade County area, please call 954-424-7499 or complete our online request form.