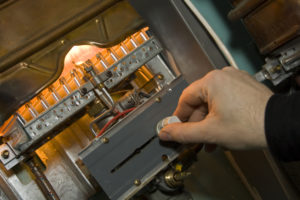 Regular boiler maintenance may not be your top priority, but it shouldn't be pushed to the back of your mind either because a boiler that functions properly will ensure that your Sweetwater commercial or residential property is heated sufficiently during the cool months of the year. If you discover any problems while performing maintenance tasks on your boiler and heating system, contact an HVAC and commercial refrigeration contractor to address the complications as soon as possible.
How to Maintain Your Boiler
Schedule Annual Boiler Service – Because HVAC and commercial refrigeration technicians are trained to identify problems, they're the best people to inspect your heating system. Annual boiler service from licensed professionals is essential to the health of your boiler's heating components. Even if your boiler appears to be functionally normally, you should have it serviced because your contractor will be able to detect problems that haven't become visible to you yet. Ideally, you should schedule a boiler inspection prior to the onslaught of cold weather to ensure that your heating system is in working order before it will be in constant use.
Test the Pressure – Boiler pressure decreases over time, causing boilers to function less efficiently, so you should ensure that your boiler meets the manufacturer's recommended pressure levels listed in the manual. If you're unsure how to top up the boiler pressure yourself, your heating and air conditioning specialist can do it during the annual inspection.
Improve Ventilation – Like most appliances, boilers require sufficient space for proper ventilation. Wherever your boiler is placed, you should make sure that all clutter is removed from around the appliance so that it can breathe and can be accessed easily. Your manufacturer's manual should also include the boiler's ventilation requirements.
Turn the Heat On Throughout the Year – During your annual inspection, your HVAC and commercial refrigeration contractor will probably encourage you to turn on your boiler periodically throughout the year to prevent it from seizing up from infrequent use. During the summer, turn your heating system on for about 15 minutes at least once.
Check for a Blue Flame – Boiler flames should be blue, so if the flame in your boiler appears yellow or orange, you should contact your technician immediately because the discolored flame could indicate a serious problem.
Keeping up with boiler maintenance in your Sweetwater commercial or residential building is essential, but you don't have to do it alone. Reach out to our skilled team at Air Murphy Air Conditioning and Refrigeration, a trusted residential and commercial refrigeration and HVAC company, to schedule an annual inspection of your heating system.
If you are looking for a
Florida Heating Contractor;

then please call 954-424-7499 or complete our online request form.